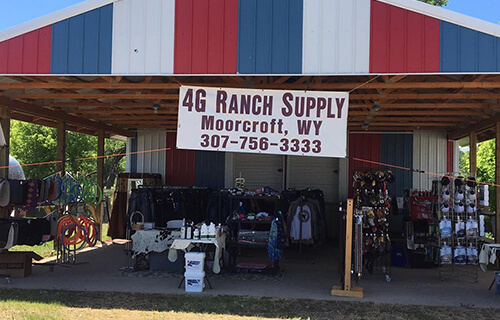 4G Ranch Supply is your destination for essential livestock equipment and a full assortment of fencing supplies. We'll help you keep your animals corralled and well-fed, so you can focus on the areas of your operation that demand attention.
We'll be glad to help you find exactly the products you need and can recommend items based on your operation. With products on-hand and available for order from some of the most trusted industry brands, we're the only destination you'll need to visit for livestock supplies.
Livestock Equipment
Looking for feeders, gates and tanks to help care for your livestock? Come to us for H and W brand equipment, as well as Hiqual items. We have a number of essential livestock supplies in Moorcroft, Pine Haven, Crook County, Rozet, and Upton, WY on-hand to make sure you're well-equipped to take care of your animals. Our inventory includes:
Gates and portable panels
Hay feeders
Water Tanks
In addition, we can also order cattle chutes and working systems from Blattner Equipment and many other manufactures, and we'll even setup your working system for you! As experts, we're able to consult with you about your needs and make sure you're getting the equipment that's right for them.
Fencing Supplies
Whether you're constructing a new livestock fence or making repairs to an existing fence, we've got all of the tools and materials you need to get the job done. Our fencing supplies in Moorcroft, WY includes both materials and tools, with versatility that spans both steel and wood fencing applications.
Gloves
Hammers
Pliers
Posts
Staples
Steel and wood posts
Wire
When you shop 4G Ranch Supply for livestock supplies and fencing products, you're making an investment in your ranching operation that keeps things running smoothly. We're here to help you take care of your animals, protect your property and improve your work.
For more information about any of the horse tack, western wear, or fencing supplies we offer, visit us today or give us a call at 307-756-3333.